[meta] Lists
The way lists look like or behave across the app is very disparate.
Issues
There are problems with buttons:
buttons have totally different looks, even on their normal state
actions offered are not consistent from one page to another
sometimes we offer two dropdowns next too each other (play, play dropdown, more), and no way to know which one to activate
we have redundant options (offering 3 times the possibility to "report" an item in a single dropdown doesn't look reasonnable)
There are different layouts, and this comes with issues:
one vertical layout is used for artist (non channel page), playlists
one two-panes layout is used for albums, artist channels, podcast channels
thus layout is not enough to convey what we are looking at. Is it an album? A playlist? A podcast?
the two-pane layout isn't adaptive and leaves a blank space on wider screens
Screenshots
Artist page (non channel):
Artist channel:
Album page:
Playlist:
Podcast channel:
Queue:
Design in progress
For music, we have been working on some mockups below. Some highlights:
use a play/pause icon only for the current track, to give a sense of progression in the list
use separators for more visual balance
use similar lists everywhere, but show only the fields relevant to context
alternate backgrounds between light (cards) and pure white backgrounds (text, lists)
rely on scrolling rather than tabs
on mobile, adapt button placements and actions menus
The new lists would bring several benefits…
Much more powerful and easier playlists:
Smoother ways to organize and share your library:
#984 Add ability to move tracks between libraries
#1007 bulk edit and move tracks
#1283 Public share via link of a private track/album
Long time requested features:
Pending questions:
what do we want to do with the albums layout?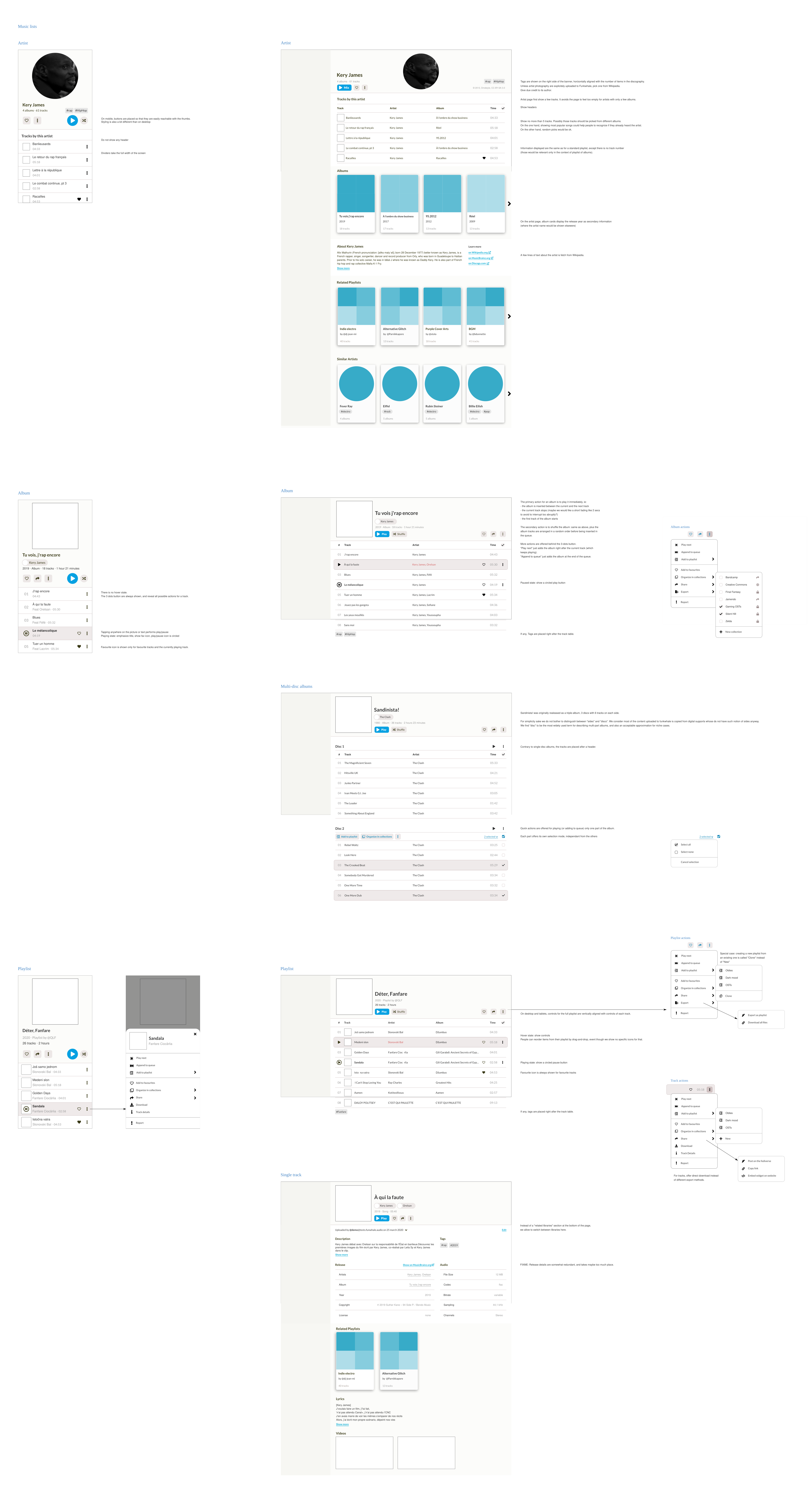 Edited
by
Mathieu Jourdan